The traditional definitions of modern and contemporary are undoubtedly synonyms.
Modern: Relating to the present or recent times as opposed to the remote past
Contemporary: Belonging to or occurring in the present
In the design world, both of these terms refer to periods of time, but in quite different ways.
Modern: Design reflecting a specific age in the past
Contemporary: Design reflecting current design trends
So what does that look like practically?
Let's start with modern. The most common "modern" design scheme is Mid-Century Modern, a term that was basically made up by author Cara Greenberg in the 80s. Generally, Mid-Century Modern lines are clean; colors are bold yet unpatterned. Think Catch Me If You Can, Mad Men, or basically every home in Palm Springs.
Feng shui and Mid-Century Modern are friends. Most plans are open and free from clutter. The lines are straight and definite. Many living rooms feature a large sofa in a neutral tone and a brightly colored accent chair or two. Natural materials are used often – glassware, ceramics, and especially wood. Shapes feature prominently in wallpaper designs and furniture.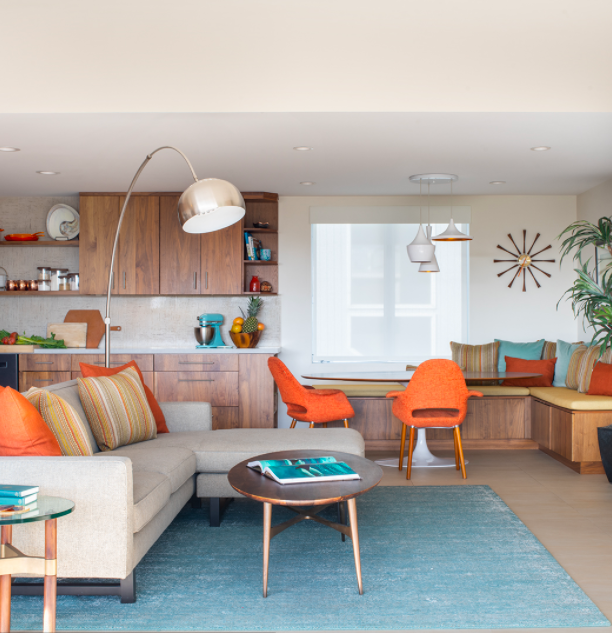 Just look at our Mid-Century project in LA's South Bay. The couch is a neutral tone to make room for the pops of orange throughout the space. The breakfast nook bench allowed more room to keep the open floor plan and flow. Shapes are defined from the cabinets' hard lines to the softer ovals in the coffee table and dining chair backs.
Part of the reason Mid-Century Modern caught like wildfire is scarcity. Furniture items went out of production. Soon after, everyone wanted the rare items seen in their grandmothers' homes that weren't on the market anymore. By the time furniture manufacturers became privy to the prevalence of Mid-Century Modern adoration, the motif was vintage and therefore even cooler.
From then, the love has snowballed. You can see Mid-Century Modern design all over the country. Collectors keep their eyes out for true mid-century pieces, specifically ones with histories or stories, while the average person needs only google the words and will find a plethora of reproductions.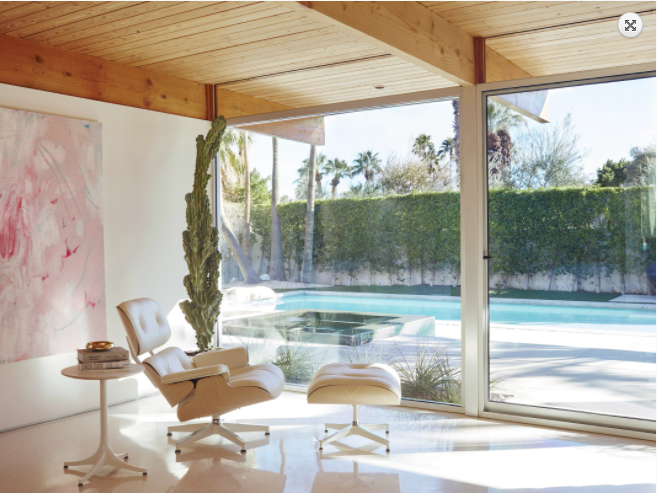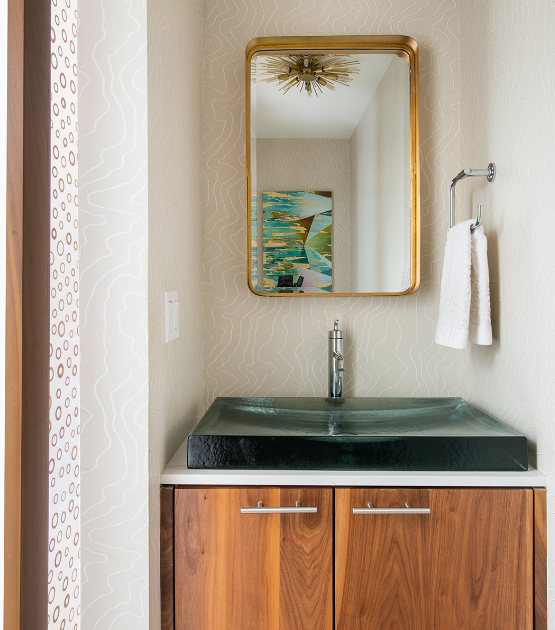 Now that we have touched on Mid-Century a bit, let's move on to Contemporary design.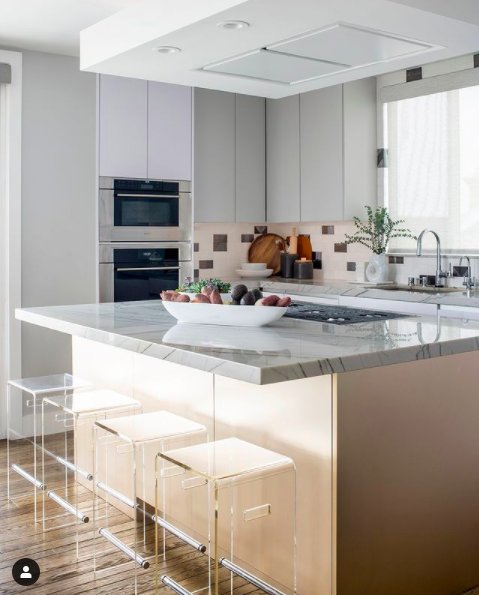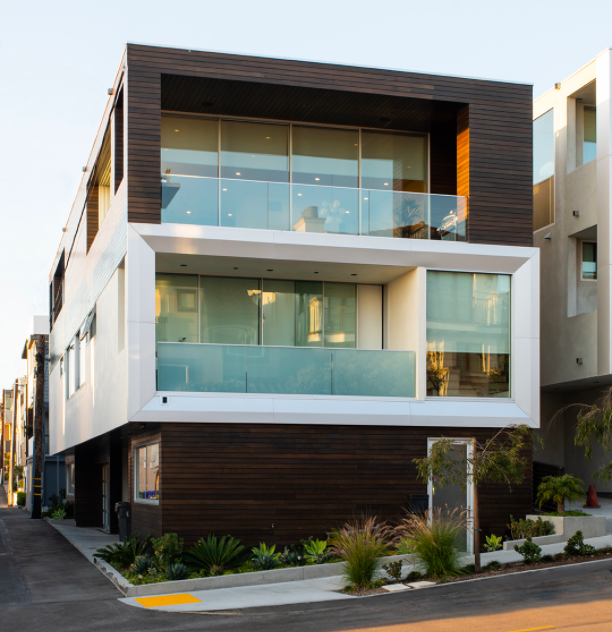 Contemporary design loves clean lines just like Mid-Century Modern, but the other elements reflect more recent trends and materials. The contemporary design of 2021 features a lot of glass and wood, angular shapes, open floor plans, and a prevalence of neutral colors. Check out this gorgeous home Shanna Shryne designed the interior for in Manhattan Beach. We wanted to match the futuristic yet homey feeling of this facade conveyed through the dark wood and contrasting white dominated by glass windows.
And that's probably an accurate identifier of contemporary design – there's always an element of futurism. Even in the 50s, when they were using what we now call Mid-Century Modern techniques, they thought of space travel and electric everything.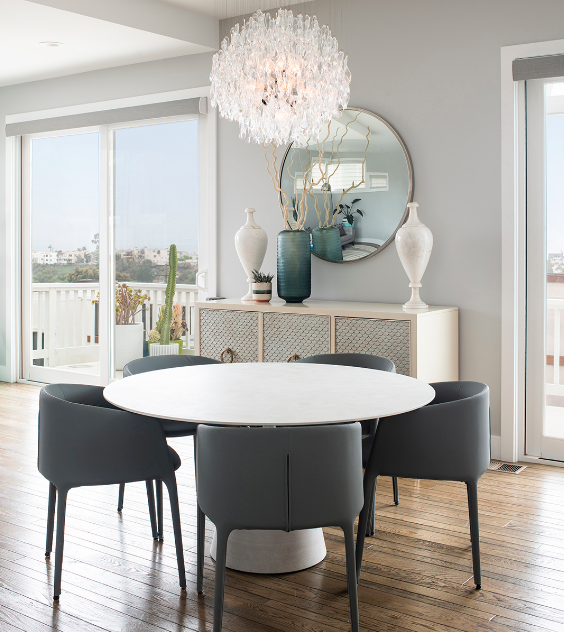 Contemporary design these days is open, airy, and neutral. Marble is king from floor to ceiling. Glass meets all of the contemporary criteria – it lends to the design scheme's openness while also providing sharp, angular lines.
Contemporary design is fun because it's forever changing and discretionary. You can always spice up your motif with some personality. Take this bathroom design we recently completed. The multi-shaded hexagon tiles and marble countertops are offset by the pop of deep teal cabinets and cool bronze hardware.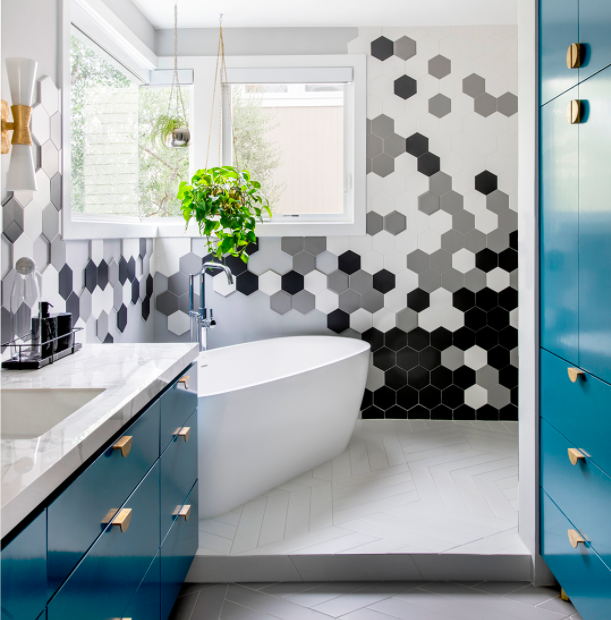 Contemporary design is more nuanced – trends change and can be manifested differently. Most everyone agrees on modern designs of the past. These designs exude history; their recreations honor the past but can always be made fresh and unique by a trained eye and a little courage. Contemporary design is fluid, gathering trends and ideas project by project. Contemporary will forever change with the times, so it's important to stay in the know… or hire someone who is.
We at Shanna Shryne Design love both modern and contemporary with gusto. Whether you're a Modern Maven, Contemporary Connoisseur, or want to hire someone who is (wink wink), we stan for both motifs and can help you navigate the nuances.