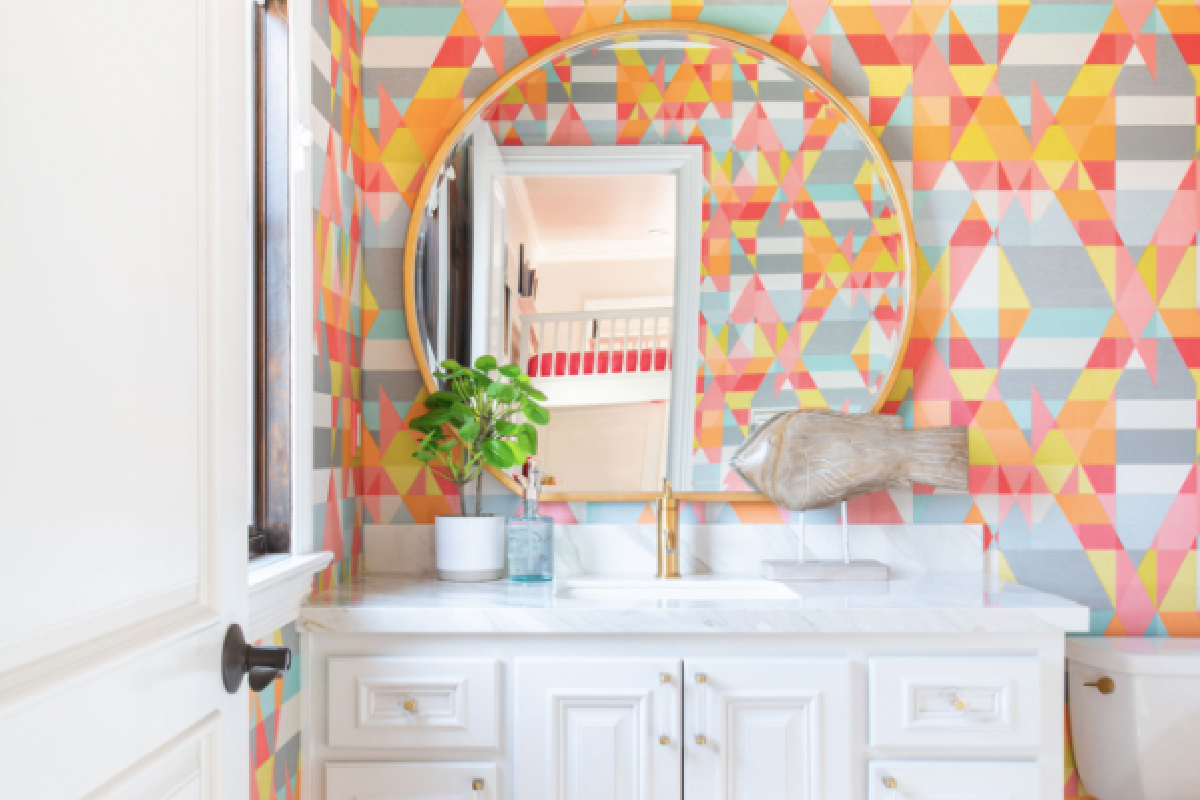 Not everyone is ready for a full home remodel. We get it. But what's stopping you from transforming a single room? There's nothing better than investing a little effort and money into improving one of the most oft-used rooms in the house.
It's also a great way to test out an interior designer. If you're a little intimidated by novel ideas or the latest design trends, let us show you the impact of a trained eye paired with imagination. That way, once you move on to the whole house, you'll trust us when we suggest wallpaper on the ceiling or mirrored backsplash in your bar.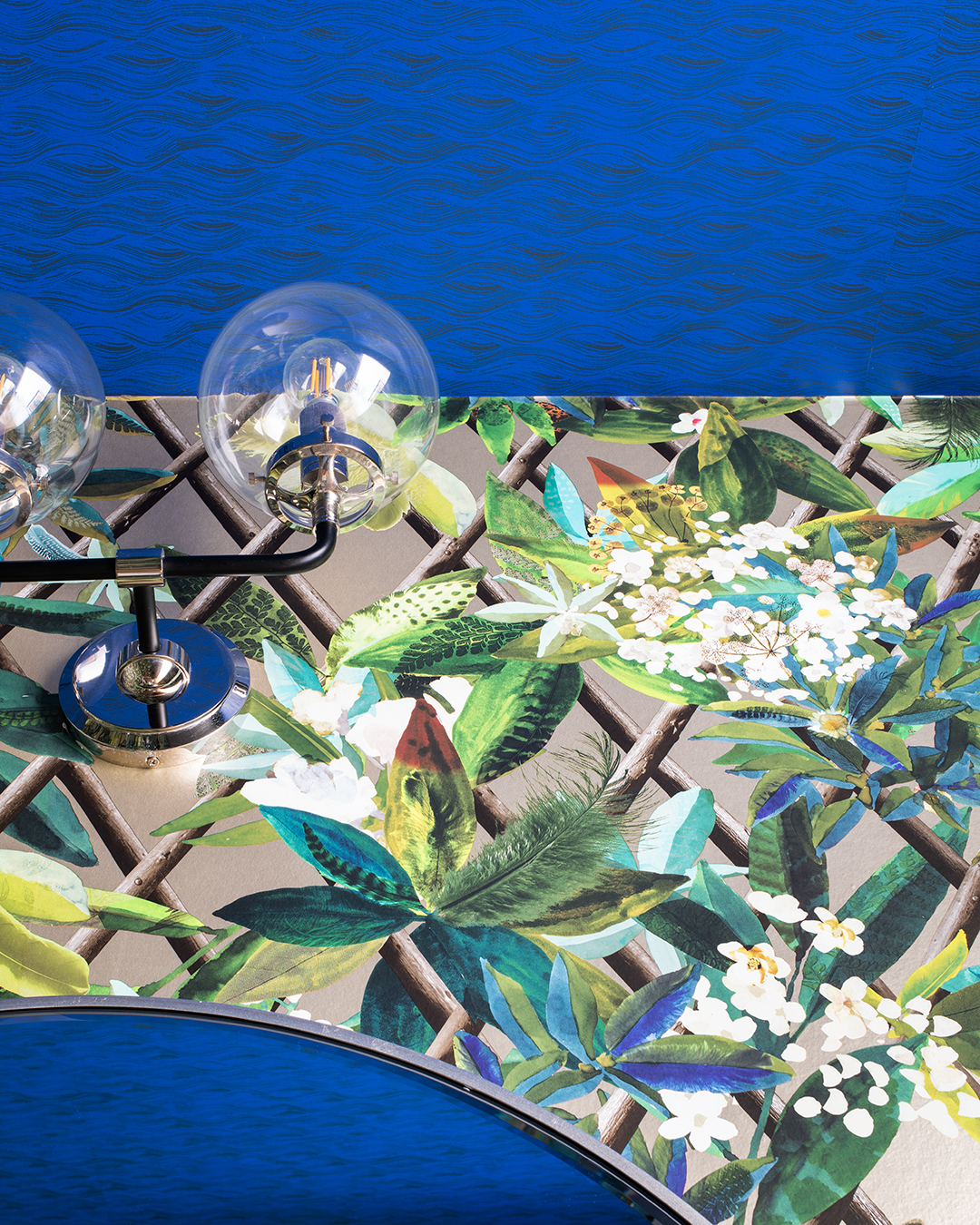 ‍
Gorgeous waved wallpaper on this California Eclectic powder room ceiling.
‍
We think these three rooms will help you understand what we're talking about. Whenever you're ready for an addition, we are too.
SPA-LIKE OASIS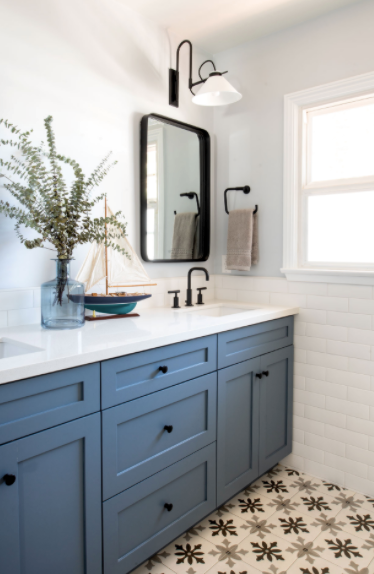 ‍Does anyone else need a spa day? STAT? We all deserve a little primp and pamper, and there's no better place to get that than at home.
That's why, when approaching this project, our inspiration was spa ambiance. Soft, soothing wall colors. Crisp, clean lines. Wide-open, bright, and airy vibe. The healing and fresh aroma of eucalyptus.
This modern farmhouse needed a little bathroom upgrade recently. We knew bathroom revitalization would work wonders on this client's personal revitalization, as well. And we also knew double sinks would decrease the number of household arguments by approximately 73%.
The Olympus White walls create a blank and fresh slate for the Granite Peak cabinets to pop. We kept the details clean and simple with a matte black Kohler faucet, Uttermost mirror, and Urban Electric light fixture. With these polished and effortless touches, we allowed ourselves some fun with the mosaic floor. And of course, who doesn't love a subway tile chair rail?
‍
FUNKY LAUNDRY ROOM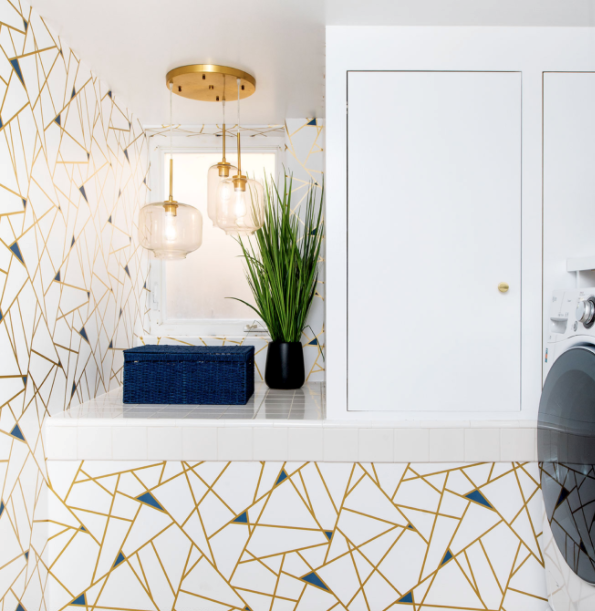 Who said laundry has to be a drag? This fun and modern laundry room makes sorting, bleaching, and folding fun. It makes cleaning the lint trap feel, dare we say it, sexy.
No room is ever too small for wallpaper. Just look at this closet-sized space: the geometrical, funky paper highlights the nooks and crannies famously. It makes the room feel endlessly bigger, right? The gold and navy touches throughout tie the space together and draw your eye all over the place, making everything feel more cohesive and spacious. We're especially into that gold Signature Hardware faucet.
A functional space doesn't have to be an eyesore. The baskets provide practical storage, while the cabinets offer a place to house the harsher (and uglier) chemicals. We'd never tell you to go with the small washer and dryer, no matter how much space we wanted for folding. Get the big ones, always.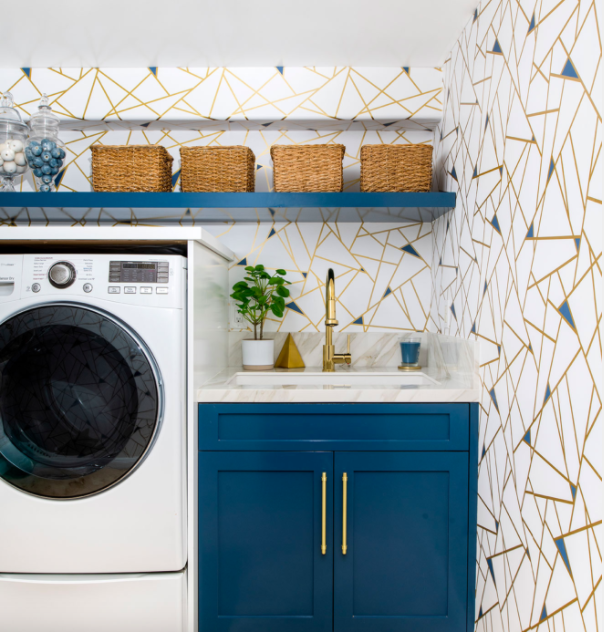 WALLPAPER WIN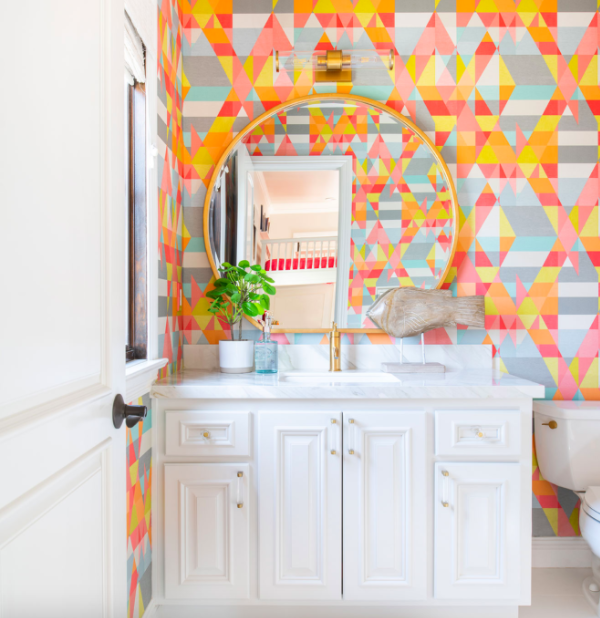 Remember when we said no room is too small for wallpaper? We meant it.
This kids' bathroom is fit for toddlers, teens, and even company. This modern, eclectic family dreamed of a space that accurately reflected their family's personality. We think this groovy, multicolored Zoffany wallpaper does the trick.
Another Uttermost mirror dominates the primary wall, reflecting the brightness and pattern of the paper. It also enlarges the room, playing tricks on your brain to make the space feel double the size. And the clean, white cabinets with wide countertops afford plenty of room for everyone to brush their teeth simultaneously.
Which space would you let us take a crack at? Let us know by emailing info@shannashryne.com.